Be-Ge Jany A/S invests in new test centre
International supplier of M1 approved seats, Be-Ge Jany A/S in Denmark, has recently invested in a brand new test facility. This initiative ensures that Be-Ge Jany A/S remains abreast of safety issues, as it always has done in the past.
"Our new test facility enables us to comply fully with new test requirements and gears us for future requirements", explains Lene Støy Bech, Be-Ge Jany A/S' general manager.
This is fully in line with Be-Ge Jany A/S' uncompromising focus on quality and safety, as reflected by the company's slogan "Seats for Life".
"When we test cars, we investigate what happens if the car is involved in an accident. Consequently, our seats are subjected to today's strictest international, passenger vehicle tests. We test seats, vehicle body and floor system together at the new test facility; and naturally it is a physical test, not merely a calculation", emphasises Lene Støy Bech.
Specifically, according to the new requirements, a seat must comply with the so-called stay away zone. This means that, in the event of an accident, the seat back must not move forward more than 10 degrees from a fixed point on the seat, the H-point. Additionally, the ISOFIX fittings for children's seats must be subjected to tensile testing, and the seat must undergo four different ISOFIX tensile tests before the system can be approved for introduction to the market.
The new test facility has been approved by TÜV Rheinland, which means that Be-Ge Jany A/S can perform all of the tensile tests itself and does not need to ship the seats to TÜV Rheinland in Germany for testing.
"This gives us an advantage over our competitors, and we are constantly adding to our experience and knowledge of tests and safety, which we keep within the company", says Kristian Kanstrup, test engineer at Be-Ge Jany A/S.
Be-Ge Jany A/S is also taking a step into the future with its software. With the new facility, data will be even more detailed, making the processing of test data very manageable.
The reason for the investment is that the EU has introduced new requirements for the testing of M1 seats. The EU wishes to reduce the number of fatal traffic accidents and the aim is for 50% fewer fatalities than in 2010 by 2020. The new regulations, which make cars safer to drive, will help achieve this target.
The test facility is manufactured in Denmark by Serman & Tipsmark A/S and Lytzen A/S.
Further details are available from Be-Ge Jany A/S' General Manager, Lene Støy Bech, on +45 96 55 67 00.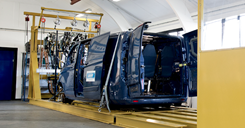 Facts about Be-Ge Jany A/S' new test facility
• Load cells1 and a wire transducer2 provide two data streams from each seat. Three seats are subjected to tensile testing at a time, which results in six measurements per test (2 data streams x 3 seats) .
• The system ensures that all six measurements are positive within the same 0.2 second period.
• The system ensures a testing time of 0.2 seconds, as stipulated by EU regulations.
• The system's PLC logs data from both the load cells and the wire transducer at exceedingly high speed and compares the data from all three seats simultaneously.
• The system has nine hydraulic cylinders: One row of cylinders for static load, one row of cylinders for the hip belt and one row of cylinders for the shoulder belt. All nine cylinders are in use simultaneously.
• The system has PID regulation/control. The PID controller is extremely quick and precise, which ensures great accuracy and controls the hydraulic system very precisely.
• The system is able to measure seat displacement very precisely.
• The system is calibrated by FORCE Technology.

¹ A load cell is a piece of hardware that measures force extremely precisely.
² A wire transducer is, in principle, an exceedingly precise electronic tape measure.